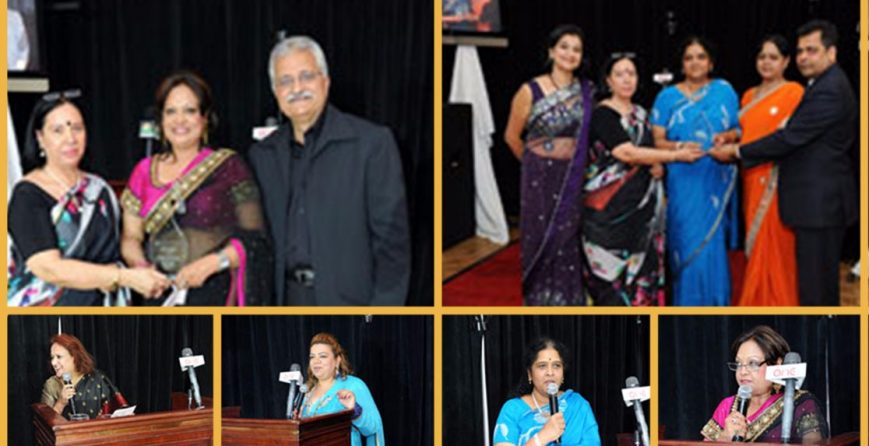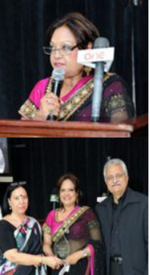 Aruna Saxena
Aruna Saxena is an attorney by profession and practiced criminal law in India. She worked as "workers' compensation" attorney for ADP, Long Island. She got a Master's degree in English literature and L.L.B. from India.
Her husband, Dr. Rajiv Saxena, is a gastroenterologist and has a practice in West Islip. They have a daughter who is a lawyer.
She has been an active member of India Association of Long Island and has held different positions for seven years. She worked tirelessly, effectively and efficiently to carry out the duties of each of her positions. She made monetary contributions to and collected substantial donations for IALI and been instrumental in the success of many of IALI's endeavors.
Over the last 11 years, she has been involved with IALI's annual Diwali Food Drive. She helped obtain van loads of food and monetary donations from local merchants, which has allowed the Interfaith Nutrition Network, an organization that operates 19 soup kitchens for the homeless, to provide more than 250,000 meals and have also served meals in their soup kitchen. Currently, she is the Chairperson, IALI Food Drive.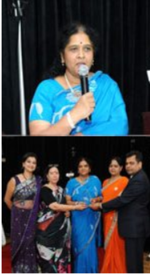 Dr.Meera Boppanna
Received her medical degree from Guntur Medical College, Andhra Pradesh, India. She practiced medicine in Algeria for few years and then moved to USA. She completed her Family Medicine training from St. Elizabeth Medical Center, Utica, NY in 1988. Currently, she is an Assistant Clinical professor at New York Medical College and has a full time private practice in Queens, N.Y. She has been the Vice President of Queens Academy of Family Physicians and served on the committees for health care delivery for NY State Academy of Family Physicians from 2000-2002.
In 2004, while visiting family and friends in Andhra Pradesh, Dr. Boppanna witnessed the pain and suffering of HIV/AIDS population in the rural and remote areas of Andhra Pradesh and realized the need for education, prevention and treatment of this epidemic in society.
Dr. Boppanna and friends formed a non profit organization called Indo American Development Health Organization. Through the Sreyassu Project, the organization currently provides comprehensive services to twenty seven villages in Jaggiapet Mandal in Krishna district. It is improving the lives of people living with HIV/AIDS by providing medical, nutritional and life skills support. IADHO has also launched preventive care and outreach awareness programs in these rural areas. Their Mobile Health Clinics provide primary and preventive care, counseling and testing, which are making an impact in stabilizing the HIV/AIDS epidemic.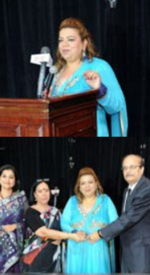 Kawal Sahni
Though she became a teen mom before finishing High school, she pursued her studies and graduated in English Honors from Delhi University.
She loves to cook for Langar Seva for Gurdwaras and observance of religious ceremonies and she volunteers for Animal Shelter in North Shore.
Professionally, she is a Sales Director with AW Mobile for six years, a highly renowned and reputed Mobile phones distribution company based in Hicksville, with twenty five T-Mobile stores.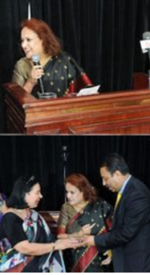 Sabiha Mithaiwala
She graduated from the prestigious Bombay Scottish High School. She got her Bachelor's degree in Commerce from the University of Bombay, followed by a Banking degree from American Institute of Banking, New York. She has been working in banking industry for almost thirty years in different banks and won several awards for her outstanding performance.
Currently, she is the Branch Manager of Habib American Bank in Jackson Heights, NY. She has brought in millions of dollars in revenue for the Bank. With her charming and friendly personality, dedication, trustworthiness, and integrity she exemplifies strong leadership and is a strong role model for South Asian girls in Long Island.
Her daughter, son-in-law and son are all physicians.