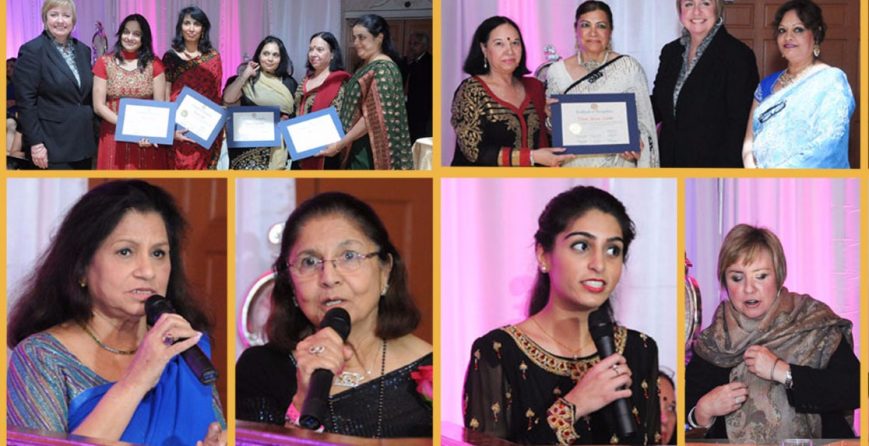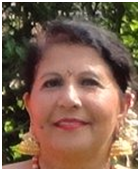 Dr. Bhavani Srinivasan, MD, MPH
Dr. Bhavani Srinivasan graduated from Grant Medical College, J.J. Group of Hospitals, Mumbai, India, and took a Doctor of Medicine (MD) in Pediatrics from Bombay University, and a Diploma in Child Health (DCH), from College of Physicians and Surgeons, Mumbai.
She did her pediatric and adolescent medicine residency at North Shore University Hospital, Manhasset, NY. After a stint in solo practice, she joined Suffolk County Department of Health, New York, where she is practicing pediatrics and adolescent medicine.
Dr. Bhavani Srinivasan has an (ABDA), American Board of Disability Associates.
She has a Master's in Public Health (MPH), from Stony Brook University, New York.She is certified in Acupuncture, (C.Ac) having trained in the American College of Acupuncture with clinical training in China.
Dr. Srinivasan has been involved in community service for over 20 years.
She was the first woman President of Suffolk Pediatric Society, Suffolk County, New York.She was the first and so far only woman President of American Association of Indian Physicians Queens and Long Island (AAPIQLI).
She has been Past President of India Association of Long Island.
Dr. Srinivasan has organized and participated in Health Fairs, conducted Galas for numerous organizations, and has organized successful Fund raisers for political and nonprofit groups, and community Spelling Bees for children.
She donates her time, effort, as well as medical expertise to those in need, both here and in India, and contributes regularly to charitable, nonprofit organizations.
She loves to read (from trash to tomes, comics to classics), enjoys travelling, fashion, yoga, Pilates and golf.
Dr. Bhavani Srinivasan is married to Dr. Mani Srinivasan, who is an American diplomat with the US State Department. She has two sons, Balaji and Ramji. Both graduated from Stanford University, California. Dr. Balaji Srinivasan PhD (Genomics) and Ramji Srinivasan are cofounders of Counsyl, a Genomics corporation, in San Francisco, California.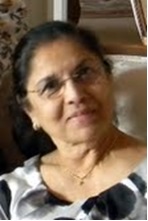 Kushalata Jayakar Ahmed, MD
Kushalata is a pediatrician and psychiatrist, practicing in Long Island and Brooklyn, NY. She graduated with an MD degree from Bombay University, India. She completed her postgraduate training in Pediatrics from The New York Hospital of Cornell University medical center. She switched the specialty by training in adult and child psychiatry. As an Assistant Professor of Psychiatry at the Down State Medical Center, SUNY, she established and directed two programs, liaison and consultation program, where she trained medical doctors handling emotional aspects of the physically ill children and the second program called The Brooklyn Family center for child victims of sexual and physical abuse. She was responsible for giving training lectures to the staff of Health & Hospital Corporation of New York City. She was a consultant for the Special Victims Bureau at the Queens District Attorney's office, where she ran a training program for the legal personnel of the Special Victims Unit, dealing exclusively with victims of violence. After doing this emotionally exhausting work for over twenty years, she switched to run another challenging program as a Medical Director for treating adolescents with addiction at the Long Island Jewish Medical Center in the Department of Psychiatry.
She volunteered to provide services for the victims and survivors of 9/11 for the Port Authority of New York and New Jersey and South Asian Council for Social Services. She is the founding member of Domestic Harmony Foundation, which is an advocacy and treatment program for victims of domestic violence. She continues to be active in this program as a consultant psychiatrist and an educator for the community.
She lives in Great Neck with her husband, who is an oncologist. She is a grandmother of two.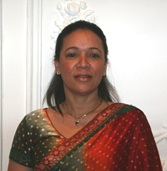 Malini Shah
Malini Shah is a well-known community leader who is the President of a diamond company, Difference Inc. In addition to running a successful jewelry business, she is the founder of Nritya Kala Kendra, a cultural organization dedicated to preserving and promoting the ancient and modern arts of India. Through classes, workshops, lectures and visiting artist programs, Nritya Kala Kendra presents numerous educational programs all around New York City and abroad. Some of the programs presented by Nritya Kala Kendra are Asian Heritage programs, Indian Educational Programs in schools , Children's day at the Indian Consulate New York, Meeting God exhibition at the Museum of Natural History, India Day at the Queens Museum of Art, Culture Day at Barnard College and Columbia University, Tropical Carnival, Queens Festival, Caribbean American Information Day at the Mayor's office, A salute to Diversity at the York College, United Nations Staff day, Guyfesta and Harmony Day, Year of India 2012-2103 at Queens College.
She is involved with major New York City cultural institutions including the Queens Museum of Art where she is on the Advisory Committee, and Diamond Chairperson for INOC (I) (Indian National Overseas Congress). She enjoys giving her time to various organizations that request her expertise and knowledge for workshops and symposiums.
She received two Bachelor's Degrees in Arts and Child Education in India. She spent more than 30 years teaching Kathak in some of India's most prestigious schools, including the Modern School, one of India's most distinguished educational institutions. She serves as a Cultural Ambassador and has traveled extensively all over the world for festivals sponsored by the Committee for Indian Tourism Development and the Indian Council for Cultural Relations.
She has received many prestigious awards, Jewel of India Award 2013, City Council Citations 2012, Citation from New York City Council member Peter A. Koo on 20th Oct 2011 for recognition and honor for years of service to the Community, "Outstanding Mother Award" by C.A.P.S.C., the Hind Rattan Award for Outstanding Services, Achievement and Contribution, London, Award for Leadership in the Arts and Culture from Assemblyman Nick Perry and the Positive Indo Image Award. Her autobiography appears in "Best of New York", "Who's Who in India" and "International Who's Who."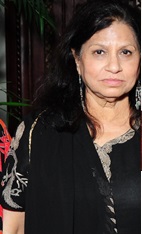 Sunita Saini, Ph.D
Sunita Saini is a graduate of Delhi University's Institute of Journalism, where she was a Gold Medalist. After graduating from School of Social Work, Delhi University, she worked with former Prime Ministers, Mrs. Indira Gandhi and Dr. Karan Singh at Bal Bhavan and National Children's Museum as a Head of Professional Services. In the United States, she earned a Doctorate degree from Adelphi University.
She worked in Long Island Jewish and Peninsula Hospital, where she was the Director of Social Services. She is the Founder and Director of South Shore Psychological Services and Long Island Psychology and Psychotherapy Services, which provide psychological services to various health care facilities including nursing homes, assisted living and adult homes. They provide psychotherapy and counseling services to children with special needs. In fact, she is the only South Asian woman to provide these services in New York State.
Outside of her work, she has been involved with different social, cultural and religious organizations. She has served in several soup kitchens and homeless shelters in Manhattan and Queens. She loves to write Hindi poetry and articles and is a frequent contributor to the Hindi magazine Chetna.
She lives in Lawrence with her husband, who is an Internist. Her daughter is a dermatologist and her son has a Band "Lights Resolve." He also works for Warner Music as a VIP Manager.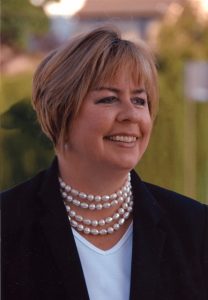 Hempstead Town Supervisor Kate Murray Biography
Kate Murray is the chief executive of America's largest township, the Town of Hempstead. At a time when federal, state and local governments are confronting credit downgrades and borrowing to unsustainable levels, Kate's sound and sensible budgeting policies have earned the respect of rating agencies on Wall Street and the trust of neighbors on Main Street. The Murray administration has won eight consecutive Excellence in Financial Reporting Awards from the independent Government Finance Officers Association; a prestigious award for transparent, forthright and honest financial municipal budgeting and fiscal reporting.
While staying true to solid fiscal practices, providing the finest municipal services at the lowest possible cost is a priority for Kate. The town continues to offer fine recreational options, quality senior citizen offerings and other top-notch services for residents. Through partnerships with the private sector, Kate has worked diligently to attract developers and new businesses, while also revitalizing downtowns and protecting the suburban character that defines the cherished way of life enjoyed by residents.
Kate has accomplished many "firsts" during her career in public service. In addition to being elected the first female Supervisor in the town's 368-year history, she was the first woman and first attorney to be elected Hempstead Town Clerk in 2001, and the first woman and first Levittowner to be elected to represent the New York State Assembly's 19th District in 1998.
Before serving as an elected official, Kate worked as an Assistant Attorney General in the Criminal Justice Section. Prior to her work there, she was an advocate for the Suffolk University Battered Women's Advocacy Project.
Kate is involved in her community, and is a member of several organizations, including the Nassau County Bar Association, Levittown Historical Society, Levittown Kiwanis, Levittown Community Council, Levittown Property Owners Association, Friends of Hofstra Arboretum, Irish-Americans in Government, Sierra Club and Bellmore-Merrick Wellness Council. Kate is also a sponsor of the Irish Repertory Theatre. Kate is a graduate of Boston College and Suffolk University Law School.